CDU Innov8 is proud to be part of Innovation Week during October Business Month 2018.
Thank you everyone who attended our sold out event htis year. Your support is appreciated!
CDU Innov8 highlights Charles Darwin University's research capability and innovation. Eight innovators will speak for 8 minutes about their new research projects, giving the audience a quick insight into some of the innovative ideas CDU researchers are exploring.
Business and Industry leaders will have an opportunity to expand their expert network by meeting researchers with skills and expertise in science, big data, social sciences, vocational education and training, engineering, health, evaluation and environment.
What's it about?
DISCOVER the exciting research being conducted at CDU and the value it brings to our community and the world. EXPLORE current research projects produced in collaboration with industry.
Meet and COLLABORATE with the innovators to identify and develop new ideas. EXPAND and establish your expert network.
Who should come?
Local business community
Owners and operators
Industry leaders
Local and state government entities
NGO's
Community groups
Researchers
Staff and students
Members of the public
Why CDU?
CDU has strong links with industry and the wider community in our home in Northern Australia and beyond, focusing on the issues facing Northern Australia.
Through our research, we aim to explore new ideas that create value for social and commercial entrepreneurialism, development, and the marketplace in Northern Australia. 
Location and registration
CDU Innov8 is free, open to the public and held at:
Charles Darwin University
Blue 5 lecture theatre
Casuarina campus
Ellengowan Drive
Casuarina NT 0810

Drinks and light refreshments will be provided.
Master of ceremonies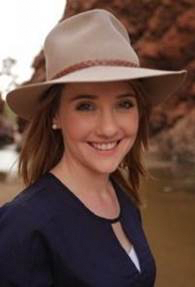 Kristy O'Brien has been involved in the production of factual television for a decade as a journalist, presenter and producer, primarily for the ABC. Her speciality round is in agriculture and rural issues and she files regularly as the Northern Territory correspondent for Landline.